Contact Thirty Catering 5ltr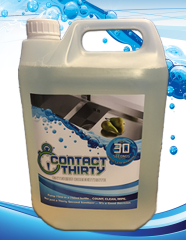 Contact Thirty Catering 5ltr
The EHO (Environmental Health Officers) are now recommending a maximum contact time of 1 minute.
Contact Thirty was created to meet this demand!
Contact thirty kills 99.9% of bacteria in just thirty seconds of contact. This product is suitable for catering, working and home envrioments.

See how good it is for yourself. Order a FREE 750ml sample here


Click on any of the following links to download the file.
Add to Basket