Re-Born in the UK Collection Scheme
R e c y c l i n g m a d e s i m p l e

Making the decision to operate your business in a more ethical manner is a great step in the right direction.
At DCS we are commited to working with all our clients towards meeting and maintaining their sustainability goals.

WHY RECYCLE?
Recycling is one of the fastest and simplest alternatives to help make a positive impact on the environment.

THE FACTS SAY IT ALL.
Recycling 1 ton of paper represents a massive 64% energy saving, a 58% water saving, and 60 pounds less of air pollution!
Likewise recycling plastic is vital towards reducing carbon emissions, which if drastic steps aren't taken our planet will continue to be at risk of the negative affects of climate change.
The Environmental Protection Agency estimates that recycling one ton of plastic conserves approximately 3.8 barrels of crude oil.
Recycling is an opportunity to help preserve natural resources, protect ecosystems and create jobs.

MAKING IT HAPPEN.
We believe in recycling so much so that we started our own collection scheme.
The service is called the Re-Born in the UK collection scheme; partnering with some of the top recycling mills in the UK to help secure and ensure all plastic,
cup and card waste is fully recycled in the correct manner so that none of the waste collected has to be incinerated or take up space in a landfill.
Over the first two months of implementing our recycling program at DCS, we have managed to prevent a collective amount of 5 ton Paper,
Cardboard and plastic waste from going to landfill or incineration. Converting todays waste into something valuable for tomorrow.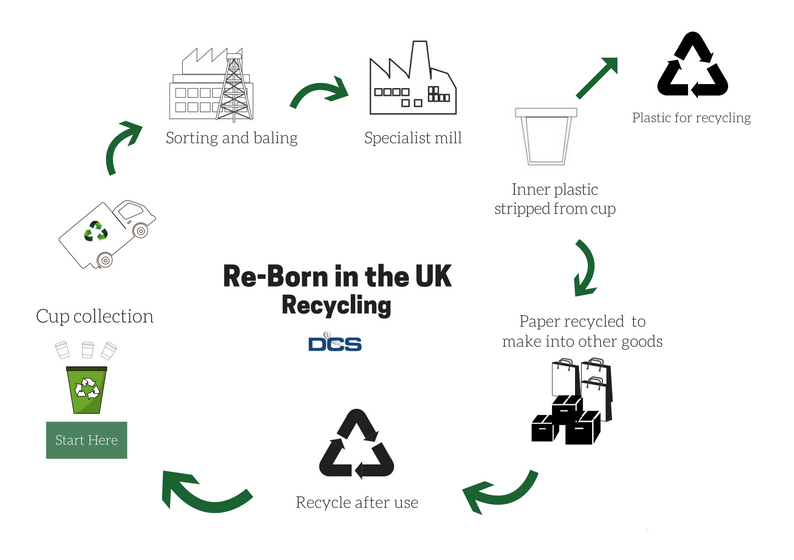 3 REASONS WHY YOU SHOULD JOIN US TODAY.
The Reborn in the UK collection scheme is


Super Affordable:
No upfront payments or membership fees required.


Flexible Service:
We have a full assortment of internal and external bins to suit your facility and budget.
Collection can be arranged based on your businesses' needs. No unnecessary paper work required.


Transparency:
We offer an annual report to reflect the amount of waste that has been prevented from going to incineration or landfill.
This allows you to manage and stay on track towards meeting your organisations' sustainability goals.


To find out more about how we can help you recycle or for a quote please email: bornintheuk@dcs.supplies.